What you need to know when adopting an animal from Macedonia to the UK
Please read the process and review the new cost breakdown as per the updated regulations in the UK after Brexit.
After choosing a dog you like, please go ahead and fill out an application: https://www.animalloversstrumica.com/adoption…/
(Only one application needs to be completed, and before applying, please ensure that your entire family has decided that you are okay with meeting the dog before adopting it only over a video call. Our dogs are located in Macedonia and can only travel to the UK once they have found their forever homes.)
After reviewing the applications, we will decide if you are a good fit for the dog you applied for. In that case, someone from our team will contact you over e-mail in 2-5 days to schedule a video call. If we didn't contact you, that doesn't mean you are not a suitable adopter for any other dog. So do not hesitate to get in touch with us again. We can always arrange a call to chat more. Our e-mail is [email protected].

We will take just a little from your time, quickly getting to know each other. You can also meet the dog over cam.

After the phone call, if successful, you will receive a copy of the adoption agreement. We will require a reservation fee of £100 as many people have the habit of canceling last minute (do not worry, we will withdraw this amount from the total cost listed below in the table).

Full Payment is required a few days before travel so we can pay timely for documents and transport on your behalf.

After the dogs are picked up from N.Macedonia, we will create a group chat with all rescues, adopters, and the driver. That way, you will receive regular updates on where they are.
If you have additional questions about the adoption process, please do not hesitate to contact us at [email protected].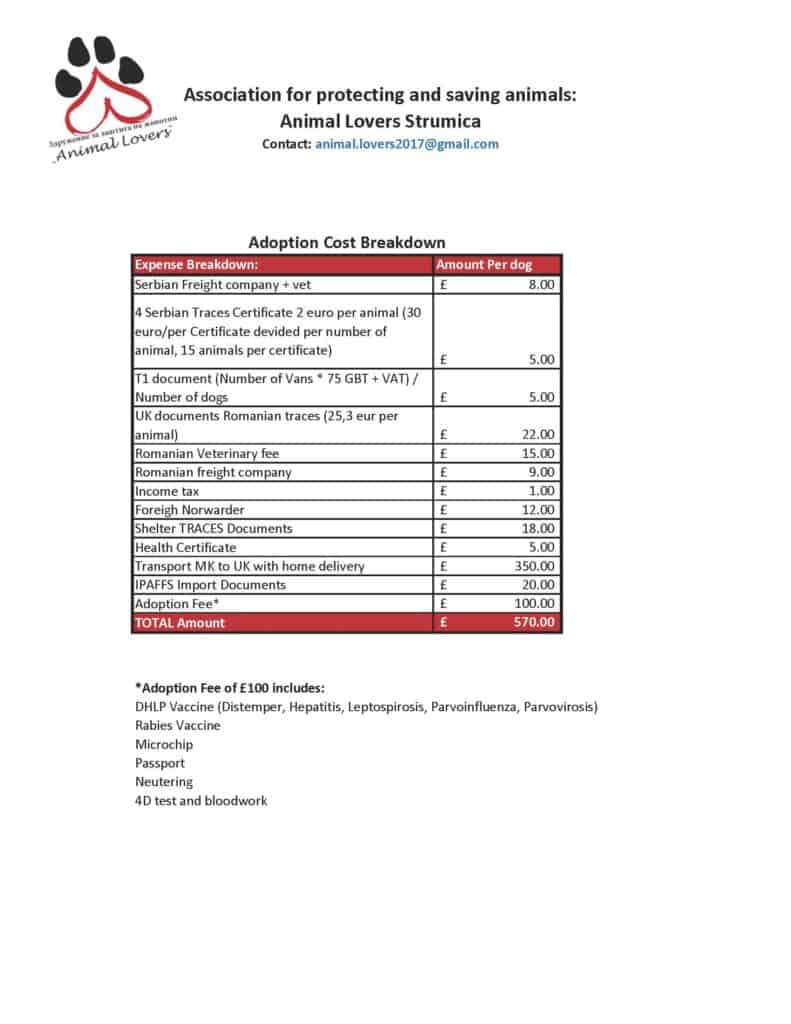 Adoption Fee for dogs six years and older: £450
This fee applies to dogs that are six years or older who are not popular for adoption.
Some fees have been removed to encourage people to adopt older dogs, leaving just the cost of transport to be covered.
Terms and Conditions:
Adoption fee of £570 applies for all other dogs. This fee is non-refundable under any circumstances.
The microchip will be registered to Animal Lovers Strumica as well as yourself.
Suppose you no longer wish to care for the above animal through whatever circumstances. In that case, the dog must be
returned to Animal Lovers Strumica – UNDER NO CIRCUMSTANCES should the animal be passed onto or sold to a
third party. It would be best if you gave us a notice as soon as possible.
The animal stated above must reside within the family home and must not be used for breeding or guarding purposes or involve any illegal activity, such as dog fighting, baiting, etc.
The animal stated above must be provided with adequate shelter, food, fresh water, regular exercise and
veterinary treatment and must be kept safe while out in public and the home.
All vet-recommended vaccinations must be kept up to date.
Animal Lovers Strumica will be allowed access to the above animal on request when giving reasonable notice. 
Animal Lovers Strumica has the right to remove the dog from your possession if it is felt the dog is not being cared for correctly or the home is no longer suitable due to changes in circumstances.
If the animal stated above needs to be euthanized due to illness or accident, Animal Lovers Strumica must be notified beforehand, unless in the case of an emergency, where you must send signed veterinary documentation regarding the incident to Animal Lovers Strumica.
Animal Lovers Strumica is not responsible for any medical conditions unknown to the rescue prior to adoption nor those that become apparent afterward. Therefore, we highly recommend seeking pet insurance.
The animal stated above has been assessed to the best of our abilities. However, a complete history of the dog may not be available. Therefore, a dog's temperament, behavior, and health cannot be guaranteed. We will do our best to provide any advice to you throughout the animal's lifetime. Rescue backup is for the entirety of
the adopted animal's life.
Animal Lovers Strumica is in no way responsible or liable for any damage or injuries caused by the animal stated above.
If the animal stated above gets lost, the adopter agrees to contact Animal Lovers Strumica as well as any relevant local authorities and will do their utmost to find the animal.
The animal stated above must be neutered/spayed within the timeframe specified by Animal Lovers Strumica and/or as recommended by a veterinary surgeon unless already neutered/spayed. Once completed, all receipts and vet records must be sent to Animal Lovers Strumica.
If any difficulties are encountered with the new dog's behavior within the first month, the rescue will be contacted, and any advice given will be followed, allowing time for the problem behavior to be addressed before returning the dog to the rescue.
Suppose you are found to have misled us or given us false information to adopt one of our dogs. In that case, we can, at any point, immediately remove the dog from your ownership and return the dog to Animal Lovers Strumica's care. Failure to adhere to any of the terms and conditions above may result in the removal of the animal, and all adoptive rights will return to Animal Lovers Strumica. DECLARATION I, the adopter(s), am aware this is a legally binding contract with Animal Lovers Strumica and have read, understood, and fully agree to the terms and conditions above.